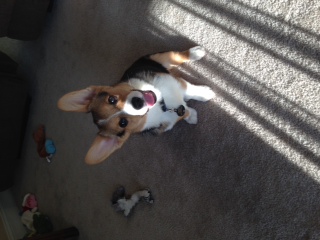 I hope all is well. Tomorrow, Webster will be 4 months, and I just wanted to give you an update on him.
He is absolutely wonderful! He is so full of personality and a little drama king.
We are very much in love with the little guy. Training was a breeze.
He has two best friends: a golden retriever,Wrigley, and an Australian sheperd, Roxie. 🙂
He has an orientation for doggy day care on Saturday, so he can have days to run around and play all day.
He needs to get that energy out, and we had to wait until he was 4 months. I could go on forever with stories.
He is definitely our perfect puppy match.
I hope you get the picture links! I'm not sure if they attached or not.
Have a great night!
Kristen